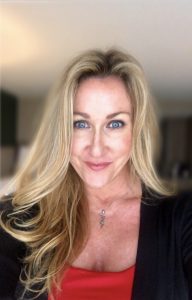 Jill Montgomery, CEO of Four Leaf Productions, is a current Sports Broadcaster on ESPN with a over a decade of experience. After retiring from a successful USA T&F career where she was a U.S. National Champion, Jill began her broadcasting career in Los Angeles covering High School Football. Her first network job was covering College Basketball on FOX College Sports. Shortly after, she was hired by NBC / Universal Sports as an on-air analyst covering Track and Field. In her 4 year tenure, Jill called some the of biggest T&F competitions in the world including multiple IAAF Indoor World Championships.
In January of 2011, Jill was hired by ESPN to replace Erin Andrews on the network's College Basketball Super Tuesday package. For the past 8 years, Jill has worked as a sideline reporter, host and analyst for ESPN covering College Football, College and High School Basketball and Track and Field. Having worked side by side with some of the biggest legends in broadcasting like Brent Musberger and Dick Vitale, Jill has built a reputation as one of the most respected names in the business.
More impressive than her on-air presence is the extensive training she has received throughout her career. Early on, Jill worked with the late Lou Riggs, widely recognized in the industry as the standard for broadcasting excellence. Jill learned and applied a valuable set of principles and fundamentals from Riggs that propelled her career faster than most. Once hired at ESPN, Jill worked with the legendary John Sawatsky. Along with what Riggs engrained in her, Sawatsky's fundamentals helped Jill to become a constant pro and a sought after broadcaster at the national network level.
Jill's career and experience has allowed her to create Four Leaf Productions Talent Development. Quickly becoming one of the premier Talent Development Companies, FLP works with network executives, producers, directors, talent agencies and sports teams/organizations around the world developing top on-air talent. Jill also travels the country hosting and emceeing entertainment, sports, and charity events.
I feel fortunate to have been trained for years by two of the Titans in the television broadcast industry. There is NO way I would have achieved success without the personal and constant development I had throughout my career. The fundamentals and skills I've learned plus the years of live broadcast experience, have given me a strong platform to develop talent. FLP's goal is to develop not only prepared and knowledgeable talent, but more importantly, polished and desirable on-air broadcasters. It's not about "getting" on camera, it's about STAYING on camera.
— Jill Montgomery
What others have to say about Jill Montgomery →