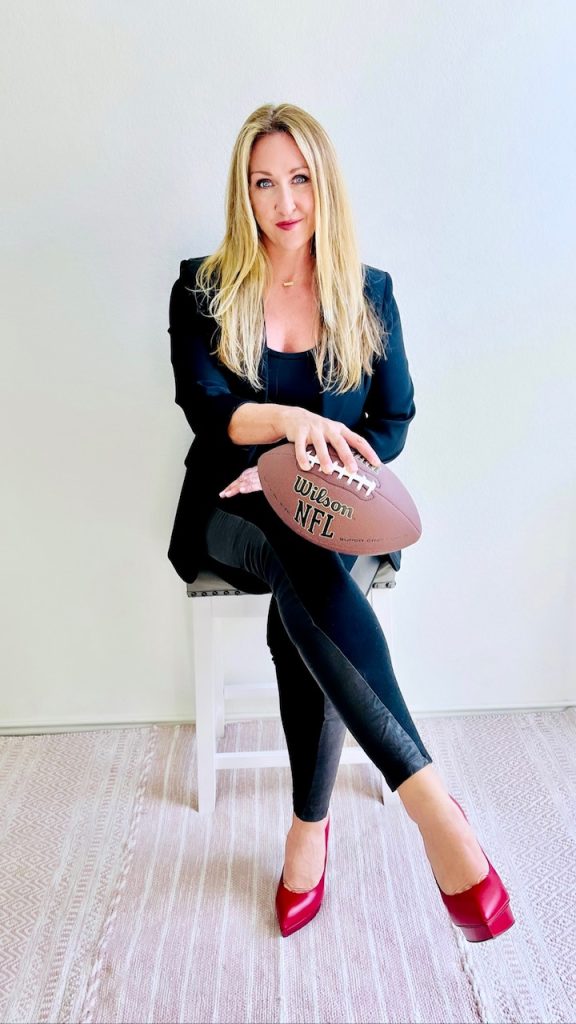 Jill Montgomery, CEO of Four Leaf Productions, is a recently retired Sports Broadcaster with well over a decade of experience. After retiring from a successful USA Track & Field career where she was a U.S. Indoor National Champion, Jill began her broadcasting career in Los Angeles covering High School Football. Jill's career skyrocketed from there. Working as an analyst and reporter, Jill has covered and called some of the biggest sporting events in the world including The Pan American Games, The Special Olympics and IAAF World T&F Championships.  Jill has also called College Football, Basketball and Track and Field on ESPN, NBC and FOX. Throughout her experienced career, Jill has worked side by side with the biggest legends in the business, including Brent Musberger and Dick Vitale.
As impressive as her on-air success, is the extensive talent development she did throughout her career. Early on, Jill worked with the late Lou Riggs, widely recognized as the Gold standard for broadcasting excellence. Once at ESPN, Jill worked with the legendary interview Guru John Sawatsky where she became a prominent and sought after broadcaster.
Combined with what Riggs and Sawatsky engrained in her, her work with numerous network producers and her successful television career, Jill created Four Leaf Talent Development.  Four Leaf is a rare breed of both, Jill's on air experience and role as an established talent development executive. With her first hand knowledge of how all broadcasts work and her continuing education, Jill develops ALL roles of on-air talent in all facets of broadcasting.  Jill works closely with networks and top talent agencies/agents as well as sports teams/organizations developing talent for the NFL, NBA, NHL, MLS, MLB, plus streaming platforms and social media outlets.  Jill has developed such superstar talents as Emmy nominated, NFL Super Bowl MVP Julian Edelman (Showtime/Paramount+) Emmy nominated Steve Smith Sr. (NFL Network/iHeart Radio) Kristen Ledlow (Turner Sports/NBATV) and Meghan McKeown (ESPN/FS1/Big10).  Jill also travels the country hosting and emceeing entertainment, sports, and charity events.
There is NO way I would have achieved success on-air without consistent talent development. The fundamentals and skills I've learned, plus over a decade of live network broadcast experience, have given me the ability to teach and develop the most successful talent on TV today.  FLP's goal is to continue to develop the most desirable, polished and successful broadcasters in the business. It's not about "getting" on camera, it's about STAYING on camera.
— Jill Montgomery
What others have to say about Jill Montgomery →